Dealing with five people paralysed by polio. The first of the radio-ballads to deal with a non-industrial subject. (TSCD 805)
This radio ballad was initially intended to deal with the psychology of pain, but finally refocused to the subject of polio -- a disease that brings with it a terrible amount of pain, along with its disabling effects (the late English singer
Ian Dury
was a polio survivor). While polio has receded from public awareness between the 1960s and the 21st century, it remains a lingering threat with consequences that this production makes very plain. It isn't always an issue of the consequences for society at large, either -- the most evident thing here is the personal pain and grief endured by the five polio victims interviewed by Charles Parker. The Body Blow is probably the starkest of the MacColl/
Seeger
/Parker radio ballads, and is likely the most compelling as a result. Where the others tend to flow in and out, this one uses a more direct method of cutting montages and a more limited palette, both in terms of the music and the number of interviewees. It's unlikely to be a candidate for regular repeated plays, however -- the emotional intensity is too great, even at this remove. It is a brilliant work, and a personal one for one of us here at the Radio Ballads website and albionchronicles. A member of the family, a cousin, is a polio survivor, a brave and indomitable woman who has allowed nothing to stand in the way of attaining her dreams and life goals.
Tony Dixon: Mastering
Charles Parker: Engineer, Production Director
Brian Daly: Guitar
Alf Edwards: Ocarina
Tony Engle: Producer
Alfie Kahn: Flute, Harminica
Peggy Seeger: Banjo, Music Direction, Orchestration, Guitar, Singer.
Ewan MacColl: Singer, Lyricist, Script, Main Performer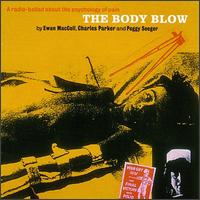 TSCD 805
1. Introduction
2. What Day Did The World Stop Moving?
3. Do You Recall How You Climbed The Mountains?
4. Can't Breathe
5. I Often Think Back....
6. World Is A Bed....
7. I Wasn't Afraid While I Was In The Lung....
8. Well, First Of All...Appreciate The Situation
9. While There's Life, There's Hope
10. It's Goodbye Now....
11. How Can I Do All THe Small Things?
12. Stronger Than Pain Is The Human Will To Survive
13. Hidden Foe....(Closing Announcement)